Get Fun Bonuses While Supporting BoardGaming.com!

What is a Power Up?
You purchase a Power Up using Gems, and it will last for a set number of days. During that time you will gain many site benefits like access to your detailed game play stats and bonus XP and BG Gold for everything you do on the site.
To see the full list of benefits, visit the Power Up page >
When logged in, you can hover the mouse over your powered up and glowing avatar to see your Power Up status: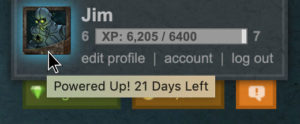 How to purchase a Power Up
1. Purchase Gems: Gem Market >
2. Use the Gems to purchase a Power Up: Power Up Market >
By Gamers, For Gamers
At its core, BoardGaming.com is a site created by board game enthusiasts, made for board game enthusiasts. The site launched in 2011 and we would love to see it continue for years to come.
Why does BoardGaming.com need your support?
To keep the site running (hosting costs, mostly), the minimum yearly expenses are roughly $3,000. That doesn't count labor, which the developers and volunteers put in for free. In our efforts to keep the site alive and ad-free, the primary source of income is through users purchasing Gems to use for BG Gold and Power Ups.
What else would you like the Power Up to do?
If you have ideas for what you'd like the Power Up to enable for you on BG, let us know by commenting below. Some of the current bonuses are a bit arbitrary. We're open to the idea of increasing them if it makes sense to do so. Should the XP bonus be 5%, 20%, 50%? Should the Gold bonus be 10%, 30%, 100%? We'd like to hear what would make the Power Up enticing (but without breaking the "Game").