Abundant Farmlands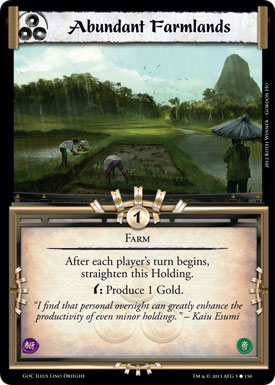 This week, BoardGaming.com gets a look at a Holding from the Legend of the Five Rings – Gates of Chaos expansion. The fundamental building blocks of any deck, Holdings provide the economy that lets your Samurai fight against the vassals of your opponent. A 1 Gold Cost Holding that bows to produce 1 Gold has generally been a pretty lackluster Holding during the history of L5R. The Abundant Farmlands on the other hand have the interesting benefit of straightening on each player's turn, allowing its controller to "double dip" into the resources it produces. As an additional benefit, having the Farm keyword also allows it synergize with the potentially explosive economy surrounding the keyword.
The Farmlands also showcases one of the best aspects of Legend of the Five Rings, player interaction. Along the right hand border of the card, you can see the Storyline Credit for Gordon Ho winning a Kotei level event last year. Getting your name immortalized on cards like this one is one of the most sought after rewards the player-base chases at events all over the world.
Look for our final card preview on August 7th!