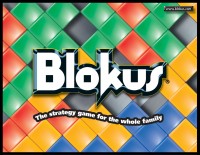 Blokus
The original game, for 2 to 4 players, which has become a classic board game throughout the world.
It is comprised of a square board containing 400 squares, and 84 pieces made up of small squares. Play it with your family or among friends: with Blokus Classic you are guaranteed to have fun moments that challenge you and make you think. When it is played by four people, the game is very animated and the outcome is never certain! Played by two people (where each player has two colours), the game provides the opportunity for more strategic and careful thinking.
The game is very simple to understand and to master and is the best product for beginners and for young players. It is also an ideal Christmas present.
Add a Review for "Blokus"