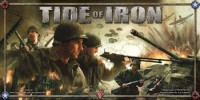 Tide of Iron

Hitler is defeated. But his German armed forces amassed throughout Europe, are still a formidable foe, preventing the Allies from truly declaring victory. Well trained, battle hardened, and equipped with lethal machinery, the German forces will attempt to break the American lines during their last major offensives. The American forces slowly but surely are advancing toward Germany, certain they will ultimately succeed. Which battles will be won or lost?
The most important conflict in the history of the world comes to your tabletop through a realistic simulation of squad-level combat, featuring hundreds of detailed plastic figures, including soldiers, tanks, and other combat vehicles. 12 modular boards will allow you to customize your playing experience, letting you test your tactical prowess in dozens of scenarios.
Epic WWII Squad-Level Combat
TIDE OF IRON is the definitive board game of WWII squad-level combat, for 2-4 players. With streamlined, scenario-driven gameplay and an attention to historic detail, TIDE OF IRON is sure to delight every fan of tactical, historical wargaming.
The TIDE OF IRON base game focuses on the American and German armies in Northern Europe in the years 1944 and 1945. Each game is played as a single scenario, either chosen from the included scenario guide or created by the players themselves, over a map constructed from modular, double-sided game boards and terrain overlays. The game play is fast-paced, smooth, and surprisingly deep, as players must take and hold vital objectives on the game board and decide how best to use each and every unit under their command.

Add a Review for "Tide of Iron"