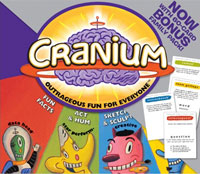 Cranium
The original award-winning board game! Sketch, sculpt, solve puzzles, act, hum and answer questions Perfect for parties, reunions, after dinner, vacations — anytime! Each game lasts about an hour — hilarity guaranteed Cranium is the outrageous, award-winning board game packed with something-for-everyone fun! Whether you're an aspiring actor, artist, data hound or wordsmith, Cranium gives you a chance to shine.
Cranium brings families and friends together — after dinner, at parties, on rainy afternoons. When you play Cranium, you'll use your brain in ways you never imagined and find yourself doing the unexpected. And the fun doesn't end when the game does — you'll never forget your uncle impersonating Britney Spears, your sister acting out "ants in your pants", your mom spelling "platypus" backwards or your best friend sculpting "platform shoes" out of clay! Cranium helps people find the fun in all things and brings light and laughter to the lives of people who play.
Add a Review for "Cranium"