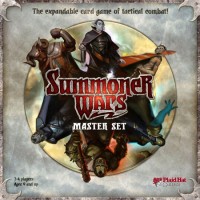 Summoner Wars Master Set
JOIN THE NEVERENDING WAR!
Summoner Wars is the exciting card game of fantastic battlefield combat that puts you in the grandiose role of a Summoner. Strategy shapes the composition of each deck of cards and how they are used. Tactics determine the effectiveness of those cards in battle. Call walls of stone to protect you in combat and serve as magic portals for you to summon your warriors. Call your forces forth and send them in a surging wave against your enemy. Cast spells that bolster your forces and cut down those who would oppose you.
Victory can only come from the death of your opponent´s Summoner.
The Summoner Wars Master Set contains 6 different complete factions to choose from.
Play as the Shadow Elves and conceal your plans in swirling darkness!
Choose the Benders and confound your foe, turning his own troops against him!
Command the Vargath, mountainous goatfolk who call lightning from the heavens!
Select the nefarious Sand Goblins and delight in malicious trickery!
Muster the Deep Dwarves and control the forces of Geomancy!
Lead the ferocious Swamp Orcs to war and hack upon your foes as they are snared in your vines!
Everything you need to play is here. And when you order direct from Plaid Hat Games you get a free promo card. Your choice of Khan Queso, Sairook, or Khexhu.
Add a Review for "Summoner Wars Master Set"