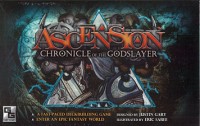 Ascension
Ascension: Chronicle of the Godslayer
is a fast-paced deckbuilding game that's quick to learn, easy to setup, and packed with endless hours of replay value! Our goal with Ascension was to make a game that we would bring out again and again for our own game nights. With an all-star team working on design and development, including Magic: The Gathering Pro Tour Champions Justin Gary, Rob Dougherty, and Brian Kibler, we spent the better part of a year making a game that will appeal to fans of the board games, trading card games, and non-gamers alike.
Digital Version:
Gary Games and Playdek, Inc. have made a digital version of this game!
Check it out! >
Add a Review for "Ascension"