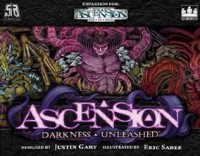 Ascension: Darkness Unleashed
Erabus is Free!
Erabus, the twisted spawn of old gods is free of his crystalline prison. The energy shards that once imprisoned him are now the only hope to stop a god bent on revenge. Without a champion to stand against Erabus, Vigil will fall. Playable as a stand-alone 2-player game, or combine it with Ascension: Rise of Vigil for an expanded game that can be played with up to 6 players!
Add a Review for "Ascension: Darkness Unleashed"