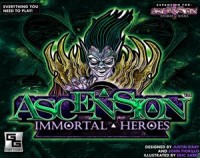 Ascension: Immortal Heroes
Kythis Must Be Stopped!
Bent on ascending to replace the slain god Samael, Kythis has begun gathering souls of fallen heroes to fuel his mad quest. It's up to you to marshal the forces of Vigil's past and present to stop the demigod once and for all!
Playable as a stand-alone 2-player game, or combine it with Ascension: Storm of Souls for an expanded game that can be played with up to 6 players!
Wield the power of the new Soul Gems to gain access to powerful heroes from the past!
New Trophy Monsters and Events!
A new way to incorporate Events with past expansions!
Add a Review for "Ascension: Immortal Heroes"