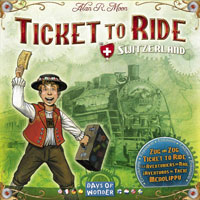 Ticket to Ride: Switzerland
Designed specifically for 2 or 3 players, this Ticket to Ride expansion forces you to reconsider your strategies. It features Locomotive cards that can only be used on tunnel routes; only 40 trains per player; and new Destination Tickets that take you to surrounding countries.
The Swiss expansion contains a game board, 46 Destination Tickets and new rules, but requires an original copy of Ticket to Ride or Ticket to Ride Europe to play.
Add a Review for "Ticket to Ride: Switzerland"