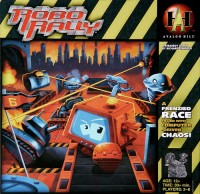 RoboRally
Robot Racing to the Extreme!
As one of several supercomputers in a fully automated widget factory, you have it made.
You are brilliant.
Your are powerful.
You are sophisticated.
You are BORED.
Time to enjoy a little fun at the factory's expense! With the other computers, program factory robots and pit them against each other in frantic, destructive races across the factory floors. Be the first to touch the flags, in order, and you win it all: the honor, the glory, the grudging respect of the other computers. But first you have to get your robot past obstacles like gaping pits, industrial lasers, moving conveyor belts and, of course, the other robots!
Add a Review for "RoboRally"