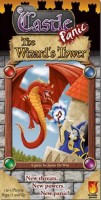 Castle Panic: The Wizard's Tower
New Threats. New Powers. New Panic!
Your Castle has been rebuilt, and a friendly Wizard has joined your forces. As long as his Tower stands, you and your friends have access to powerful magic spells.
And you'll need them, for the Monsters have returned stronger, faster, smarter, and with new abilities to threaten the Castle. You'll fight against magical Imps, evasive flying creatures, and more. Make your stand against six new, dangerous Mega Boss Monsters, including the Dragon and Necromancer. Use fire to attack the Monsters, but beware, your Walls and Towers can be burned down as well!
The challenge is high but so is the adventure. Can you survive more panic and defend The Wizard's Tower?
A new element in The Wizard's Tower is fire! Flame Tokens are used to indicate when something is burning. New cards in both the Castle deck and the Wizard deck will allow the players to catch Monsters on fire, causing them to take damage after they move. But the players are not the only ones with access to this new weapon. Some Monster Tokens can attack the Castle with fire, weakening and even destroying Castle structures!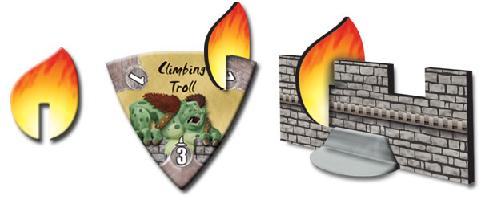 The Wizard's Tower is an expansion to the board game Castle Panic. It is not a stand-alone game and requires Castle Panic to play.
Add a Review for "Castle Panic: The Wizard's Tower"