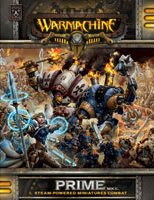 Warmachine: Prime MKII
In Warmachine, the very earth shakes during fierce confrontations of Armageddon-like proportions. Six-ton constructs of tempered iron and steel slam into one another with the destructive force of a locomotive. Lead-spewing cannons chew through armor plating as easily as flesh. And a tempest of arcane magics sets the battlefield ablaze with such that the gods themselves fear to tread the tormented ground.
Victory shall favor the bold! So bring it on—if you've got the metal.
Warmachine is a fast-paced and aggressive 30mm tabletop miniatures battle game set in the steam-powered fantasy world of the Iron Kingdoms. Players take on the role of elite soldier-sorcerers known as warcasters. Though warcasters are formidable combatants on their own, their true strength lies in their magical ability to control and coordinate mighty warjacks—massive steam-powered combat automatons that are the pinnacle of military might in the Iron Kingdoms. Players collect, assemble, and paint fantastically detailed models representing the varied warriors, machines, and creatures in their armies. This is steam-powered miniatures combat, and your tabletop will never be the same!
Add a Review for "Warmachine: Prime MKII"