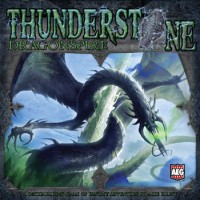 Thunderstone: Dragonspire

This is a stand-alone expansion that can be played by itself or as an expansion to Thunderstone
The Doomgate is open, and Doom has been released into the world! The forces of destruction stalk the lands, destroying all they touch. There is but one dim flicker of hope: the Thunderstones, scattered at the dawn of time. Two lie hidden deep within the Dragonspire.
Will your heroes be the first to reach them?
Dragonspire is a stand-alone expansion to Thunderstone. The cards within can be played with any or all of the past Thunderstone sets, or can be used by themselves as a fully playable set. Dragonspire adds a fresh crew of new heroes, along with new spells, villagers, and weapons all ready to help your stand against the darkness. They will be needed, for within new terrors have awakened: bloodthirsty undead, blistering elementals, wrathful dragons, and mighty giants! Dragonspire also includes brand-new dungeon settings, campaign rules, and an entirely new way to face Doom alone!
New Dungeon Board
Over 500 cards with all-new art
New plastic XP tokens
Eleven new heroes and seven new monsters, plus new village cards
Add a Review for "Thunderstone: Dragonspire"