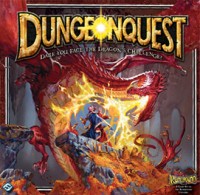 DungeonQuest

DungeonQuest is a re-imagining of the classic board game of dungeon exploration for 1-4 players. Set in the vibrant fantasy realm of Terrinoth (first popularized by Runebound), DungeonQuest retains the peril, tension, and brutality of the beloved original game while updating both mechanical and thematic elements. Players take on the roles of brave (or foolish) heroes willing to brave the legendary dangers of Dragonfire Dungeon. Fortune awaits those able to venture into the dragon's lair...
In DungeonQuest, Players must guide their heroes through the twisting halls of Dragonfire Dungeon in pursuit of unimaginable riches hoarded by the Dragon Lord Kalladra. Whoever can amass the most wealth and make it out of the dungeon before the closing of the doors seals their doom will emerge victorious. However, merely surviving the harrowing dungeon is a feat all its own...
Dare you face the dragon's challenge?
Add a Review for "DungeonQuest"