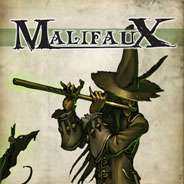 Malifaux

Are you willing to risk your soul for a chance at great wealth and power? It's your only weapon in a world rife with monsters, necropunks, man-machine hybrids, gunslingers, and power-hungry politicos. In Malifaux, you lead your Crew in the battle for control of the Breach, a dark portal to a world of limitless magic.
Malifaux is a character-driven 32mm tabletop miniatures game. Players collect, build, and paint models representing the denizens of Malifaux, pitting these models against one another in groups called Crews for control of the precious resource known as Soulstones.
A Crew can contain several different types of models depending on how a player constructs it. Masters can manipulate the course of events in the world around them, changing their own Fates through their control or theft of Soulstones. A variety of fantastic and frightening beings, collectively known as Minions, serve the Master as fodder in his or her machinations.


How well a Crew carries out its leader's Strategy and Schemes determines whether or not it will emerge victorious in an Encounter with an enemy Crew. Strategies represent the Crew's main path to victory, while Schemes are simpler alternate routes to achieve the leader's goals.
Malifaux players use decks of cards called Fate Decks to resolve game events such as attacking and spell-casting. Players can manipulate the cards they play to alter the Duel's outcome. It takes a shrewd leader to effectively utilize a Crew's resources, ensuring he or she always has ready the cards needed to Cheat Fate.
What do I need to get started?
Visit the official gameplay page to learn how to get started. Wyrd Miniatures has put a lot of effort into their dedicated Malifaux site to allow you to explore the game, download useful resources, and participate in community forums.
visit the site >
Add a Review for "Malifaux"