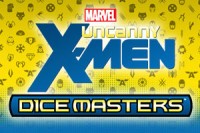 Marvel Dice Masters: Uncanny X-Men
Expansion Overview
A quick look at what's unique in the Marvel Dice Masters: Uncanny X-Men 2-Player Starter Set.
See our full review of Dice Masters >
Starter Set Characters
Wolverine, Kitty Pryde, Cyclops, Angel, Juggernaut, Magneto, Quicksilver and Iceman.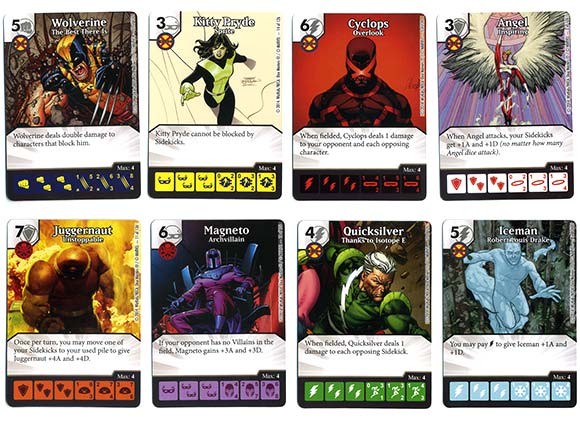 Basic Action Dice Colors
The basic action dice colors in the set are purple, orange, brown and pink.

Basic Action Cards
Out of the 10 Basic action cards, 6 have a purchasing cost of 3 and 4 have a cost of 4. A few that stood out from the other Dice Masters sets were Possession, Imprisoned and Feedback.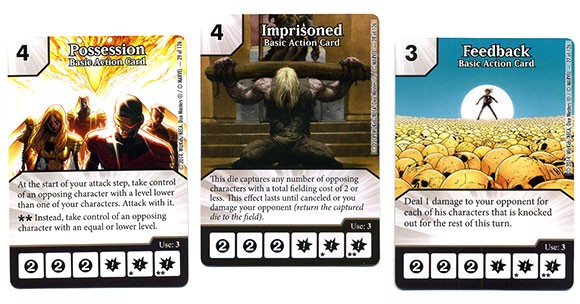 Possession allows you to control an opposing character and attack with it, that's one more attacker for you and one less blocker for your opponent!
Imprisoned can really change a round up as it allows your action die to capture (temporarily remove) any number of your opposing player's characters with a fielding cost of 2 or less. The are set free once you damage your opponent or when effect is canceled. This could allow you to completely devastate your opponent by clearing their field and then attacking with a huge force.
Feedback allows you to do 1 damage to your opponent for each of thier characters that gets knocked out. A great bonus if your opponent has a field full of sidekicks!
Add a Review for "Marvel Dice Masters: Uncanny X-Men"