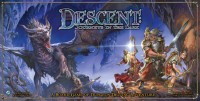 Descent: Journeys in the Dark

Across the land, courageous heroes delve into shadowed dungeons, journey to lost cities, and explore forgotten ruins. In the darkest corners of the world, these heroes confront deadly and terrifying monsters. For those few who survive, the rewards are many. For those that confront the Overlord, master of traps and monsters, in his dangerous dungeon realm and fail... only eternal darkness and the Overlord's hollow, echoing laughter...
Descent: Journeys in the Dark is a semi-cooperative game in which two to five players will take on the antagonistic roles of heroes and Overlord. Up to four players will choose characters with a wide assortment of skills and innate abilities to be the heroes who will explore dungeons in search of treasure and adventure. One player will take on the role of the Overlord and will control the dungeon's many traps, puzzles, and monsters.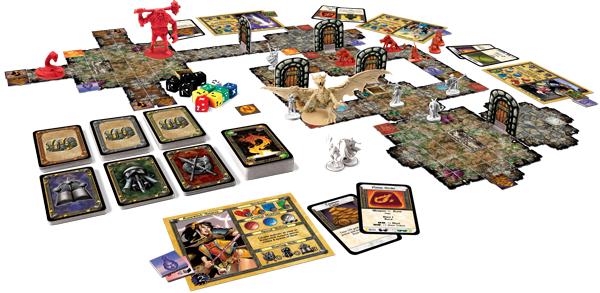 The heroes' goal will be to cooperatively conquer the dungeon, seize its many treasures, and achieve other objectives as set by the scenario. If the heroes cooperate and achieve their goals, they will all win. The Overlord's objective is simply to use all the means at his or her disposal - from deadly traps and ferocious monsters - to kill the heroes. Each hero has a certain Conquest Point value to the party and if too many Conquest Points are lost through hero death, the party loses and the Overlord wins.
Are you equipped and ready to step onto the Glyph of Transport and cross the dark portal into the world of Descent?
Add a Review for "Descent: Journeys in the Dark"