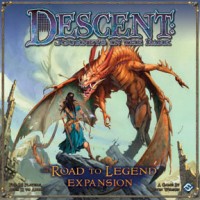 Descent: The Road to Legend
In the darkest of night burns the glimmer of hope. When foul Overlords rise up to blot out the sun and enslave all living things to their infernal will, great heroes always rise up to oppose them… and now, you must be those heroes.
Venture forth from the peaceful town of Tamalir and journey into the darkness beneath the earth. Search for clues in the twilight beneath the trees in forgotten forests. Brave the horrors of treacherous swamps. Uncover new treasures, learn powerful new skills, and rise to dizzying heights of power.
But beware… the Overlord will not sit idle…
Add a Review for "Descent: The Road to Legend"