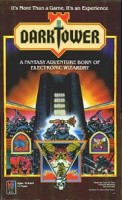 Dark Tower
An epic fantasy quest to recover an ancient magic scepter from a tyrant king in his Dark Tower, brought to life in electronic form.
To vanquish the usurper, players search the four realms of the circular game board for three keys to unlock the tower's gate. On this journey, there are battles to be fought against roving bands of brigands, dragons, plague and hunger. There are bazaars to visit to purchase supplies and assistants for the quest. There are uncharted territories to get lost in and tombs and ruins to plunder. And there is a mighty army to be raised before the player can lay seige to the tower and fight either to glorious victory or crushing defeat.
Add a Review for "Dark Tower"