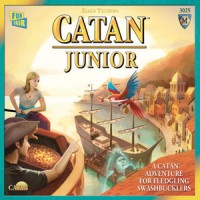 Catan Junior
The Catan Junior edition takes families with children ages 6 and up to a place quite different from Catan as we know it. There are no "settlers" around here. Instead, the players represent pirates who build their hideouts - called pirates' lairs - all over the island and set sail to find new places and build more pirates' lairs there.
Catan experts will easily recognize that many essential elements of the "big" Settlers of Catan game are included in the Junior edition, which - in accordance with the theme - have different names now. Pirates' lairs are built adjacent to islands; by means of these lairs, the players receive resource tiles. These tiles are used to build ships and more pirates' lairs or to buy development cards (which here are called "Coco tiles"). And if you want to build a pirates' lair, besides a lumber tile and a wool tile you also need a cutlass tile and a molasses tile.
Although in the Junior edition some rules were simplified, so that also 6-year olds have no trouble keeping up, it is still unmistakably a "Settlers of Catan" game. Catan Junior is not just a game for kids but a genuine family game, to be enjoyed by both adults and younger children.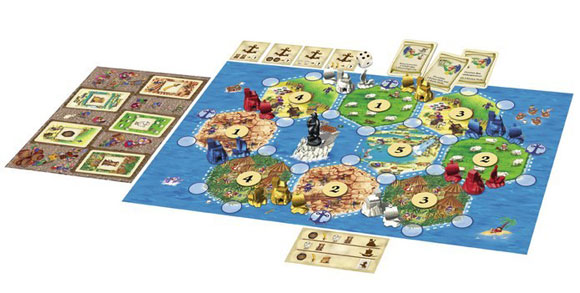 Add a Review for "Catan Junior"