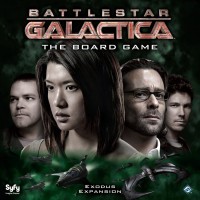 Battlestar Galactica: Exodus Expansion

"We make our own laws, now. Our own justice…we're not a civilization anymore. We are a gang."
–Lee Adama
The battered remnants of humanity continue the search for a safe place to call home. While their former captors continue to pursue them, the men and women of the Colonial Fleet find themselves haunted by the past. The struggle for survival has resulted in sacrifices, compromises, and grave errors. But when put to the test, will they be able to overcome their own painful secrets and stand together?
The Exodus Expansion for Battlestar Galactica: The Board Game brings players to the next chapter of the popular Syfy series. In addition to more characters, Destination, Crisis, Super Crisis, Loyalty, Quorum, and Skill Cards, this expansion offers three exciting new options for play that may be used in any combination. Create the Battlestar Galactica experience you want!
Add a Review for "Battlestar Galactica: Exodus Expansion"