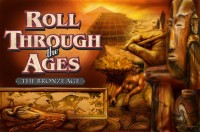 Roll Through the Ages
The #1 "Winner of Best Family Game 2010", and a nominee for the 2009 International Games Award for General Strategy, Roll Through the Ages is the hottest family game out this year!
Collect goods, assign workers to build cities and erect monuments, advance your civilization through cultural and scientific developments, but don't forget to harvest enough food to feed your growing population.
This game is perfect for those who appreciate high quality wooden components, medium-weight strategy and the chance to influence a society from the ground up.
Grab those dice and Roll Through the Ages in this awardwinning, addictive and strategic new civilization game!
Add a Review for "Roll Through the Ages"