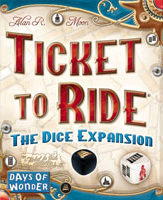 Ticket to Ride: The Dice Expansion
Gameplay
With this expansion you won't be using the train cards to claim your routes. Instead, you'll roll 5 dice which you can immediately use to either claim routes or choose destination tickets (choosing one per station rolled, with the option to discard each one). You can also cash in two unused dice to get a route token that can be used later on if you didn't roll enough to claim a route. That's basically it.
Since you'll be able to claim routes almost every turn, the game goes quite a bit faster. You also won't be holding cards in your hand, which some players like, and others don't. The downside is that you loose the anticipation the cards bring. Whether the colors you need will turn up, or if the player before you will take the colors you need. You also loose a bit of the player interaction.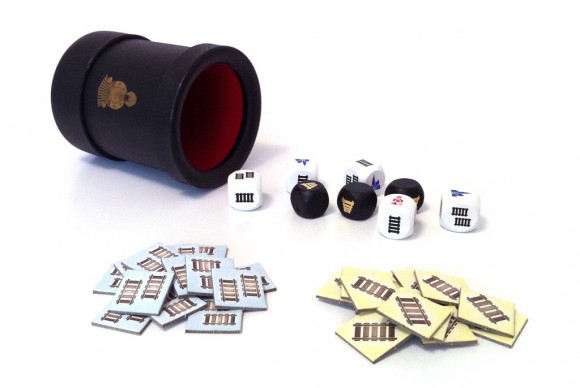 Learning Curve
The rulebook is only a "booklet" because it's in almost every language. You find you're an expert in 5-10 minutes. This is definitely an expansion that you could use with first time players.
To buy or not to buy…
Yes – If you get frustrated with waiting for the colors you need to claim routes, this is a must buy.
No – If you like the interaction between players that the cards bring, and having cards in your hand, then this might not be the right expansion for you.
Add a Review for "Ticket to Ride: The Dice Expansion"