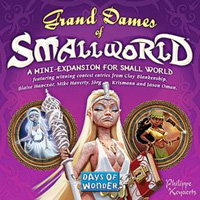 Small World: Grand Dames
Introducing the leading ladies to Small World!
The Grand Dames of Small World contains 3 new Race banners and their tokens. And if you expect the Gypsies, Priestesses & the ghostly White Ladies to exhibit only a demure feminine side, you are making a big and perhaps lethal mistake. These ladies are out for blood! The Grand Dames expansion does show its conciliatory side with 2 new Special Power badges - Historian & Peace-Loving.
Add a Review for "Small World: Grand Dames"