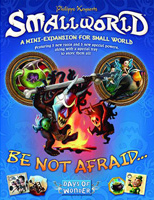 Small World: Be Not Afraid
Some are born great, some achieve greatness, and some have greatness thrust upon 'em.
There are many frightening inhabitants of Small World, but to survive you must Be Not Afraid...! This expansion for Small World includes a nasty lot of five new Races including Barbarians, Homunculi, Pixies, Pygmies, and greedy little Leprechauns. You'll also get five new Special Powers among which Catapult which allows you to leap over regions to conquer new lands.
Add a Review for "Small World: Be Not Afraid"