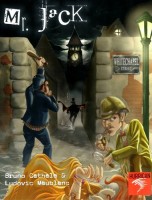 Mr. Jack
1888 Whitechapel District, London. 00:25am.
As usual too much fog surrounds the British Kingdom.
Then a shout… As another victim falls prey to the notorious Jack the Ripper, as he has been dubbed.
Finally, not being able to endure this any longer 8 investigators come together to try and uncover the mystery of Mr. Jack. The question is: Can they uncover him before he strikes again, even when one amongst them really is the Assassin?
2 players with 8 characters. One of them runs a race against time, to uncover the truth of who the Ripper really is. While the other works to escape and deceive everyone from the fact that he is the shadow in the night that strangles these far from innocent women. With only one accusation throughout the whole game players need to pay close attention to who is in the shadows and who remains in the light.
Mr. Jack is a game published and edited by Hurrican Games and distributed solely in the USA by Asmodee editions.
Add a Review for "Mr. Jack"