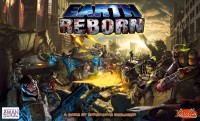 Earth Reborn
The end of the world does not come suddenly. It is much more insidious.
500 years after the devastation of the Earth, two factions arise from their underground cities. NORAD, militaristic, scientific, paranoid. Salemites, occultists experimenting with the revival of the dead. Both factions meet for the first time and instantly clash.
Earth Reborn is a highly realistic, scenario-based simulation game which is rich in depth and possibilities. Although it may seem complex at first glance, it is in fact quite simple and intuitive once you have learned the basics.
Add a Review for "Earth Reborn"