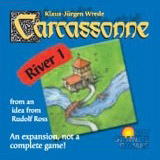 Carcassonne: River I
This is the original river expansion for Carcassonne. It was included for a time in the basic game, but has been removed to make it available separately for those who want it.
It is 12 tiles, each with a portion of the river. It replaces the starting tile for the basic game in game play.
River I is not a complete game, but must be played with Carcassonne.
Add a Review for "Carcassonne: River I"