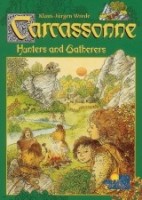 Carcassonne: Hunters and Gatherers
This is a new game (not an expansion) in the Carcassonne line. It has new graphics, a new set of components, a theme set in the stone age, and new rules to match the theme.
As in Carcassonne, players place tiles and put game figures on them, but with different strategies and results. Players have figures that can represent hunters, gatherers, or fishermen and place them in meadows, forests, or on rivers. They also have huts, which can be placed on rivers or lakes and are scored at the end of the game as are the hunters. Gatherers and fishermen are scored when forests or rivers are completed.
There are special forest tiles that give the player who plays a tile completing a forest an extra tile lay of special tiles with special features. Players will like this game that features the tile-laying and token placements of Carcassonne with many new twists.
Carcassonne: Hunter and Gatherers is a unique stand-alone game, it is not an expansion.
Add a Review for "Carcassonne: Hunters and Gatherers"