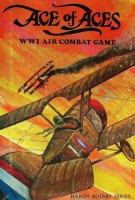 Ace of Aces: Handy Rotary Series
Ace of Aces is an innovative 1-on-1 combat game that simulates a dogfight between WWI aircraft. Each player has a book with pictures of what they see out the cockpit of their airplane. Each player selects a maneuver (bank left, barrel roll, etc.) and tells their opponent a page number to turn to. This new page, when cross indexed with the maneuver made, gives the page number that shows the results of the chosen maneuver. The object of the game is to get your opponent in your sights and shoot them down.
There are advanced rules for fuel consumption as well as a campaign game.
Add a Review for "Ace of Aces: Handy Rotary Series"