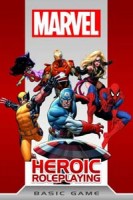 Marvel Heroic Roleplaying
The Avengers have been disassembled, the Fantastic Four are somewhere in space, and the X-Men aren't answering their phone. When dozens of dangerous villains are spring from the maximum-maximum security prison known as the Raft, who's going to stop them?
You are.
The MARVEL HEROIC ROLEPLAYING Basic Game uses the acclaimed "Breakout" story arc from Brian Michael Bendis' New Avengers to launch the MARVEL HEROIC ROLEPLAYING product line. The Operations Manual gives you all the rules you need to play, from gathering your heroes to taking on the likes of Carnage and Mister Hyde in a desperate free-for-all!
Hero Files for Captain America, Spider-Man, Daredevil, Iron Man, Wolverine, and more!
A mighty mob of Marvel Super Villains, from Armadillo to Zzzax!
Easy to learn game rules make this a perfect entry point to super hero roleplaying games!
All the action and drama that gamers have come to expect from Margaret Weis Productions and the Cortex Plus System!
Add a Review for "Marvel Heroic Roleplaying"