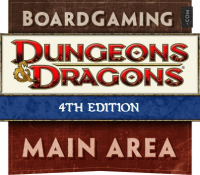 Dungeons & Dragons: 4th Edition
The Dungeons & Dragons Roleplaying Game has defined the medieval fantasy genre and the tabletop RPG industry for more than 30 years. In the D&D game, players create characters that band together to explore dungeons, slay monsters, and find treasure. The 4th Edition D&D rules offer the best possible play experience by presenting exciting character options, an elegant and robust rules system, and handy storytelling tools for the Dungeon Master.
NEW TO ROLEPLAYING GAMES?
JUMPING RIGHT IN
First, get the core rule books
(shown below)
:
You will also need:
A copy of the character sheet in the Player's Handbook for each player.
A battle grid. The Dungeon Master's Guide contains one.
Miniatures to represent characters and monsters.
A set of dice (ideally one set per player):
1 four-sided die (d4), 4 six-sided dice (d6), 1 eight-sided die (d8), 2 ten-sided dice (d10), 1 twelve-sided die (d12), and 1 twenty-sided die (d20)
Pencils, scrap paper, and graph paper to keep notes and to map the locations your characters will explore.
Add a Review for "Dungeons & Dragons: 4th Edition"