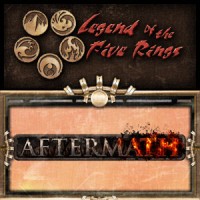 Legend of the Five Rings – Aftermath
The battle with P'an Ku is at an end, and the enemy of the Empire stands defeated once more. In the aftermath of the struggle, those complicit with the dark forces must be punished, and those loyal to the Empress are rewarded for their valor. Order must be returned to the Colonies, and the careful balance of power between the commander of the Imperial Legion and the Imperial Governor must be struck, or all may yet be lost.
Aftermath is the expansion leading to the release of the new base set for the fan favorite Legend of the Five Rings Collectible Card Game from AEG. Like the previous expansions – Coils of Madness and Gates of Chaos- it is part of both the Emperor and Ivory Arc. As power is reluctantly transferred back to the Imperial Governor in the Colonies after P'an Ku's defeat, the sons of the Empress make their presence felt. Will the emergence of these high-status samurai shatter the newfound equilibrium?
Tin box with embossed artwork packaging for the boosters.
150 new cards (147 dual bugged) , with a chance every booster to get a foil version of a rare card.
Amazing art giving life to both the characters and the land as they try to recover from the madness, featuring works from critically acclaimed artists such as Sergio Camarena, Conceptopolis, Jason Engle, and Tony Foti.
The heirs to the Throne are receiving support from the Clans! Which will you favor?
Add a Review for "Legend of the Five Rings – Aftermath"