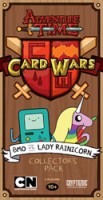 Adventure Time Card Wars: BMO vs Lady Rainicorn
Now you can play the actual card wars game from the show!
Based on the original Adventure Time episode featuring "Card Wars," where Jake begs Finn to play his favorite trading card game. Eventually, Finn and Jake battle against each other to decide who will be the Dweeb and who will be the Cool Guy.
BMO vs Lady Rainicorn Box
BMO's Useless Swamp deck features Creatures from the episodes such as the triple-threat Immortal Maize Walker, the talkative Mouthball, the underpants-wearing Wandering Bald Man and many more.
-vs-
Lady Rainicorn's SandyLands deck features fun-tastic Creatures such as the coarse Sand Knights, the toothy Shark, the musical The Mariachi and many more!
Key Features
Based on the Card Wars game first introduced in the Adventure Time episode of the same name.
Includes code cards that unlock special surprises in the Card Wars digital iOS game.
Easy to learn rules! The four lanes focus the action for maximum interaction and fun.
All-new, original artwork features fan-favorite cards from the episodes, plus a host of new ones!
Add a Review for "Adventure Time Card Wars: BMO vs Lady Rainicorn"