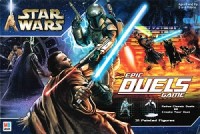 Star Wars: Epic Duels
Individual battles between famous Star Wars characters set on different board locations. Players choose a major character that has one or two minor characters with it. Each set of characters has its own deck of cards which are used for attack, defense, or special abilities. Each deck is unique with certain special powers relevant to the major character. There are different modes of play; one on one battles, up to three teams can play against each other, or up to six players can play a free for all, last man standing battle.
Battle fields included are Geonosis, Emperor's Throne Room, Carbon-Freezing Room, and a landing platform.
Add a Review for "Star Wars: Epic Duels"