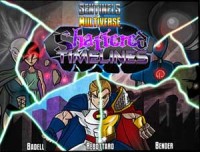 Sentinels of the Multiverse: Shattered Timelines
Expansion Overview
At is simplest, Shattered Timelines introduces 2 new heroes, 4 new villains and 2 new Environments. But this third expansion offers a game play experience for Sentinels of the Multiverse unlike any you have yet experienced. Or will experience in the past or an alternate future, or a parallel universe… Wait .. wha? Yes, time can drive you nuts. But Shattered Timelines will give you a co-op experience you will always forget, or never remember? Uh… let's let the cards speak for themselves…
Heroes
Chrono-Ranger: After Sheriff Jim Brooks fell through a time portal, was saved from monsters by a sentient computer in the future, he was given a choice: time hop around into the past find monsters and take them down before they overrun the world in the future. Accepting his role as the Chrono-Ranger, he has a bounty on all the worst villains out there.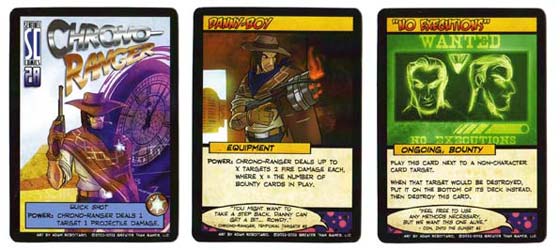 The Chrono-Ranger's deck concentrates on targeting in play villains and other legal targets with bounty cards, which offers game play advantages like increased damage or healing for Chrono-ranger as well as other heroes. He also has some sweet equipment like the Masadah: a cool alien handgun that does damage based on the number of Bounty cars in play, and his trusty hat which allows him to play and extra card per turn. The deck is very well built and balanced, and appeals to that Indiana Jones meets Firefly fan in all of us.
Omnitron-X: Omnitron, that super intelligent computer villain that has taken on the Freedom Five many times, has realized in a distant future that the key to his numerous defeats must be humanoid's empathy and compassion. In order to understand this, Omnitron built a humanoid form constructed around an empathy component. Upon activation, the 10th Omnitron form realized the error of its misguided ways and dedicated itself to preserve mankind.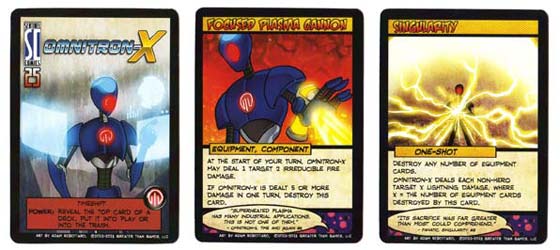 Omnitron-X's powers are derived from his vast array of equipment, which offer him both offensive and defensive powers. But beware some are easily destroyed when "Om-X" takes damage. Perhaps one of the best Hero powers in the game as well: able to look at the top card of ANY deck and either trash it or put it into play. This gives "Om –X" a place in any hero group – weeding out harmful Villains and Environments defensively and helping his companions or himself by going for the card that may save the day. Lastly, being a computer after all, he can use the card "Rest", to shuffle his discard into his deck, basically re-powering his entire deck strategy.
Villains
The Dreamer: Vanessa Long, a.k.a. the Visionary went back in time to save her self and when Vanessa was indeed born she was a normal child. Then at age 6, young Vanessa's clairvoyant powers manifested themselves and left the small child in a coma. Her tortured nightmares now have become real and challenge the Heroes to defeat these mental manifestations without harming their colleague of the past!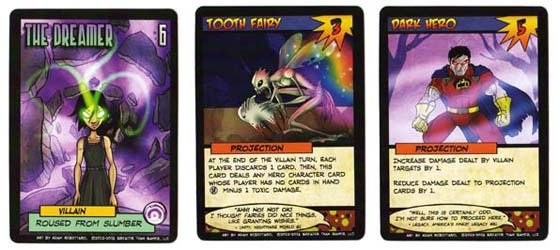 What makes The Dreamer's deck dangerous is its relentless an unpredictable projections that come you: grotesque arachnoids, demons and even the tooth fairy! There is also dark version of the hero Legacy that will seem very familiar all too soon. Besides the direct damage from nightmares and such there is an interesting twist. If the Dreamer is reduced to 0 hit points, the Heroes lose the game. That's right, you don't win by defeating the villain. Instead, Heroes can only win by destroying her projections. The Dreamer only has 6 HP, so choose an environment carefully. Heroes can also choose to take damage for The Dreamer just to save the past form of their future ally. Very cool concept and very challenging as well.
La Capitán: 500 years in the past, Maria Helena was a stowaway on a Spanish Galley that fell into a temporal rift . She and the ship both were inexorable altered in the time distortion and renamed her self La Capitán! Now she sails through time on "La Paradoja Magnifica" (the Magnificent Paradox) with a diverse crew gathered from the past and the future in search of adventure and riches.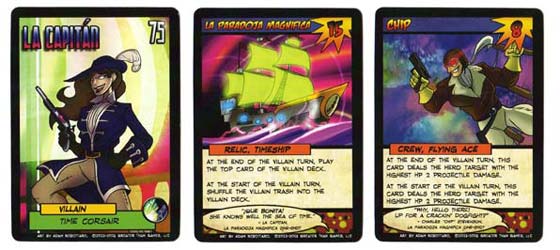 Maria is a bold Villain, her ship starts in play and allows her to essentially play two Villain cards a turn; pouring her crew out to face the heroes. It also allows her to refresh her Villain deck at the start of every turn – making "La Paradoja Magnifica" a tempting target, but watch out. Maria wont hesitate using the "Temporal Thief" card, to steal the heroes cards and stow them away, increasing her power, she will even capture the defeated heroes, taking their incapacitated abilities away from the remaining heroes. Yeah, she is one pesky time pirate.
The Kismet: The Adhin family felt blessed with good luck thanks to a special talisman. Then a young Gabrielle Adhin touched the Talisman and suddenly could read and understand infinite branching realities! Her quantum awareness honed her psychic abilities but not her mental stability. Now she uses the Talisman to alter consequences in her favor as well as against others, playing a dangerous game with fortune and misfortune.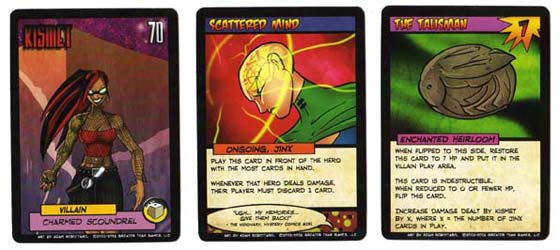 Kismet thrives on chaos and using her Jinxes and Lucky cards , she can really do some damage. Jinxes of course hurt the heroes, but the Lucky cards provide and interesting deck twist. Some card interactions require Kismet to rely flipping the top card of her deck requiring it to be a Lucky card. So Kismet is always playing with the odds – in this case 33% – of getting Lucky. Her indestructible Talisman also starts in play with Kismet but of reduced to 0 HP actually flips and turns lucky for the Heroes! It's all too, too chaotic. She is an unpredictable, manic, and a difficult Villain to face.
Iron Legacy: The result of an alternate timeline tragedy, when Baron Blade killed his daughter, the man who would be Legacy donned armor and turned his sights to world domination – silencing all who oppose his rule. All the power and fortitude of the worlds greatest hero channeled into complete and utter world domination. He will stop at nothing until the entire world shakes under his iron fist. Simple as that.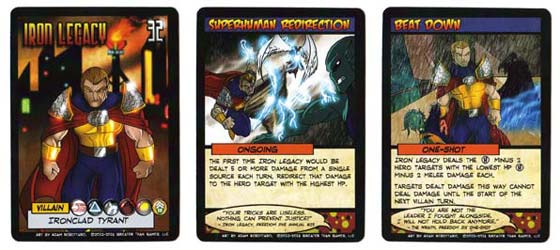 Iron Legacy is simply one of the toughest Villains created for the game. Beginning with the fact that he has multiple nemeses. Namely, Tachyon, Absolute Zero, Tempest, The Wraith, Unity and Bunker. He immediately gets H ongoing cards in play from his villain deck…oh things like "Superhuman Redirection", and other protective cards. He cannot be hurt by Environment damage and 60% of his deck is "One-shot" cards. He has no lackeys coming into play to distract you, no funny devices or equipment. At the end for each of his turns, just to make his point, he deals each Hero 3 Damage. He also has some indestructible Galvanized armor. He is in your face, non-stop, relentless. So… have fun with that.
Environments
Time Cataclysm: What you have here is time gone wild. Time anomalies, appearing out of nowhere: dinosaurs, typhoons, Block agents, brain sucking tendrils, and yes, even a surprise shopping trip. This Environment's effects are as varied as time itself resulting in utter chronological chaos!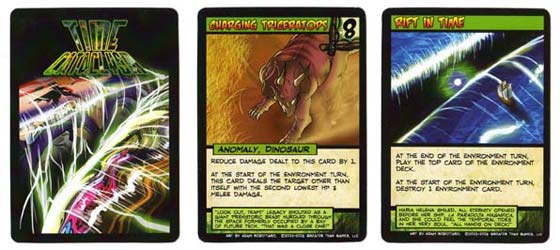 The Block: Where to the super villains go when hey are defeated? The Block, the only extra dimensional maximum-security prison capable of holding the Multiverse's most powerful villains. But it looks like the place is not as secure as we thought! Prison riots and escaped Inmates are wreaking havoc. Luckily there are Agents on hand and Warden Hoefle to mop them up. Watch out for Time-Crazed prisoners and one big bad inmate named Char. Its time to secure the Block!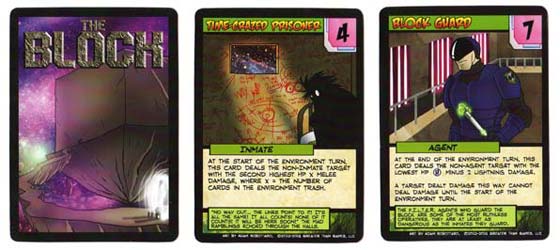 Final Thoughts
By now, many Sentinels fans may have found their favorite Hero, faced many Villains in several environments and feel pretty confident. If trouble comes knocking, they are able to answer the door, kick butt and take names. But no comic book based game would be complete without the ever changing, always puzzling, and paradox producing elements of time travel.
What Christopher Badell, Adam Rebottaro, and Paul Bender have done is taken several time-related themes: future selves, alternate realities, quantum universes and turned them into one of the most entertaining and challenging Sentinels sets to date. As you can see from some of the unique mechanics presented above, the set offers a game play challenge that is supported by great art, a continually congruent and compelling story-line and imaginative and enjoyable archetypal characters that will you rethinking your favorite Hero. All this without adding ANY new rules sets to learn. All of this temporal chaos fits neatly into the current existing rules set, and fits neatly into the character story lines. One would think these guys are running their own comic book company. Guess what…they are.
Sentinels of the Multiverse continues to be a solid and enjoyable game experience, streamlined, and compelling with a full back-story of characters to support the action. If you have not yet played this game, do so. What more can be said?
One side note: If you were fortunate enough to Kickstart Shattered Timelines, then you received a bounty of stretch goal promos that, quite frankly are another expansion all in and of itself. A huge congratulations to Greater than Games for an amazing Kickstarter experience, frequent and professional communication, immediate shipping, great game component quality and more promo cards than you can shake a time infused hockey stick at. Sometimes it's not just about the game, it's about he folks that make them.
With Shattered Timelines, the best super-hero card game on the market is that much better.
Add a Review for "Sentinels of the Multiverse: Shattered Timelines"