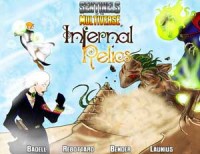 Sentinels of the Multiverse: Infernal Relics
Expansion Overview
Infernal Relics is the second expansion to the Sentinels of the Multiverse card game, and includes two new heroes "Nightmist" and "The Argent Adept, " four new Villains: "Akash'bhuta," Apostate," "Gloomweaver," and "The Ennead." As well as two new Environments: "The Realm of Discord," and The Tomb of Anubis." New mechanics include new mechanics for magical abilities or spells, and a unique multi-layered musical mechanic used by the Argent Adept hero. Let's pull aside the veil of mystery and discover more!
Heroes

Nightmist
Employing the power of magical energies, Nightmist is a very powerful ally. She also uses mysterious relics to channel her powers. But she must use her magical resources wisely or succumb to defeat.
See her story here >
The Argent Adept
The master musician whose powers swirl and ignite like a fiery symphony. The Argent Adept uses Instruments to coordinate melodies, harmonies and rhythms to fight for good.
See his story here >
Villains

Akash'bhuta
A towering entity of nature nearly unlimited destructive power whose primeval limbs strike out to crush the heroes and the prime material plane itself. She is immense and unrelenting – Mother Nature at her worst.
Learn more about this villain >
Apostate
A dark winged fiend from the infernal planes, Apostate employs the work of evil relics, dark energies and insidious fiends such as demons and imps to do his bidding. Neither subtle nor safe, Apostate uses Infernal damage against the heroes to wipe them out.
Learn more about this villain >
Gloomweaver
The stuff of nightmares, Gloomweaver animates the dead and long forgotten nightmares to wreak havoc. Voodoo, and cultist minions do his bidding. A nightmare of a villain to face…literally.
Learn more about this villain >
The Ennead
Nine ancient Egyptian deities: Set, Isis, Atum, Geb, Nephthys, Nuit, Osiris, Shu, and Tefnut, commanding powerful magic and relics that create a nearly unstoppable vengeful force against the heroes. They are relentless.
Learn more about these villains >
Environments

The Tomb of Annubis
This deadly tomb hides traps, mummies and ancient trials to test the heroes. Failure means the Environment will unleash it worst on the heroes. Pass these ancient trials and you will be rewarded. A truly insidious environment.
Learn more about this environment >
Realm of Discord
A chaotic plane in some other dimension, dangerous energies and ethereal hazards abound. This environment features Distortion cards that twist reality – and the rules of the game. An amazing and difficult deck.
Learn more about this environment >
New Mechanics
Magic: Magic takes the form of Spell points that can be found on Nightmist's cards. Each spell icon contains a numbered value. The cards and key abilities and powers of Nightmist's magic are keyed to these numbers. When a power or ability requires her to spend spell points, they must be used from her available points in hand. The card interactions and combos can be formidable. But careful management of the spell resources is required.
Perform and Accompany: The Argent Adept uses music to focus his powers. Within his deck, Perform and Accompany abilities can be activated by his power, or by using instruments. These activate three types of powerful ongoing cards: Melodies, Harmonies and Rhythms. This mechanic is specific to his deck making him a unique and challenging hero to play.
Final Thoughts
Infernal Relics brings into the world of Sentinel Comics the less corporeal and mysterious powers of the netherworlds. Two very powerful heroes join the ranks in this expansion. But both Nightmist and The Argent Adept are quite difficult to play without becoming familiar with the hero decks. They depend on careful management of resources and a working knowledge of the mechanics that make them work. That said, they are two of the best designed heroes to date.
Of the Villains in the set, each presents their own formidable set of challenges, but The Ennead and Gloomweaver really pack a punch – even without their advanced abilities. Akash'bhuta is just huge and may become frustrating if the Environment gets too tricky. But with patience, the heroes will win the day. Even the Environments seem to compliment this set with unpredictable and unnerving effects that typify a realm beyond our own reality. Twisted reality is what this expansion is all about. Mixed in with the current heroes and Villains, Infernal Relics broadens the Sentinels game experience in a fresh and formidable way.
Add a Review for "Sentinels of the Multiverse: Infernal Relics"