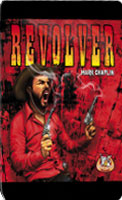 Revolver: The Wild West Gunfighting Game
The year is 1892. The bank at Repentance Springs has been robbed. Many good citizens, including Sheriff Anton Dreyfus and school-marm Sue Daggett, were brutally slain as the gang shot its way, whooping and hollering, out of town. Colonel Ned McReady and his men are tasked with bringing Jack Colty - a man so mean he'd steal a fly from a blind spider, or a coin off a dead man's eyes - and his gang to justice.
Perfectly thematically balanced card game set in the Wild West.
Each player has their own unique deck of cards with unique possibilities.
Several winning conditions for each player: requires different tactics and different methods of play.
Short texts and clear symbols on the cards make the game easy and clear to play.
Cards feature beautiful illustrations and have titles that could have been lifted directly from a western movie, such as : "Let's shoot our way outta here" and "Chew on this, gringo!".
A lot of direct player interaction and high replayability.
Add a Review for "Revolver: The Wild West Gunfighting Game"