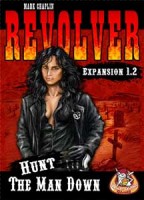 Revolver: Hunt the Man Down
A vicious hardened convict is imprisoned within the walls of a brutal Texan prison. Locked inside his mind is the key to Colonel Ned McReady"s downfall, and Jack Colty is the only cowpoke alive who can spring him out. Trouble is, Jack"s already being pursued by the vengeful Colonel about another matter…
In the end, only one side will claim victory. Will it be yours?
Revolver: Hunt the Man Down is the second in a series of expansions for the hit wild west shooter Revolver: The Wild West Gunfighting Game.
In Revolver: Hunt the Man Down each player is given more options to play and win:
The McReady player has a new winning condition.
There is a new location, the prison, from which the Colty player may decide to free his compadre. The method for resolving the jailbreak is unique compared to the other battlefields and does not lengthen the game.
Two new icons on the cards for the new mechanisms of the game.
New cards are provided for both players which give them the opportunity to customize their decks, bringing new variety and replayability to each game.
Add a Review for "Revolver: Hunt the Man Down"