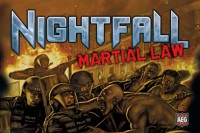 Nightfall: Martial Law

Nightfall: Martial Law is a stand-alone expansion for Nightfall
Darkness has enveloped the world; chaos reigns. Humanity fights back in the only way they know how: with forceful control. But how does one control creatures whose existence defies all logic?
Martial Law introduces many new characters and actions, as well as all-new color combinations for creating chains and achieving kickers. Martial Law will also introduce the new "Feed" mechanic which will allow players to get even more uses out of their orders. Finally Martial Law will also bring to the table a new Wound effect, sure to suprise your opponent.
Add a Review for "Nightfall: Martial Law"