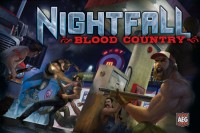 Nightfall: Blood Country

Cities have fallen, cities have stood, but outside of those protections, humans must face the creatures of darkness on their own terms. In the lawless countryside of Nightfall, the beast within can wreak havoc like never before.
Blood Country brings all new strategies and tactics to Nightfall, introducing cards that can have additional impact and ability based on the use of specific wounds. Blood Country expands the dark and intriguing world of Nightfall by taking the story out of the embattled cities and into the rural areas of America. The song says "a country boy can survive," and Blood Country shows just how the blue collar class takes the fight to the vampires, werewolves, and other horrors!
Blood Country releases as a pure expansion, featuring only new cards and dividers, in a reduced-size box. Nightfall and/or Nightfall: Martial Law are required to play.
Add a Review for "Nightfall: Blood Country"