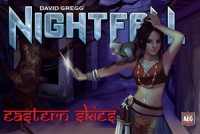 Nightfall: Eastern Skies
The war for the eternal night rages around the world, and nowhere is it more bizarre than in the far east. A fully functional city in India nearly untouched by the Nightfall, uncontrolled ghouls from the seas, and strange happenings in the skies are only the beginning.
Nightfall is a strategy deck building game where you take control of Hunters, Lycanthropes, Vampires, and Ghouls to take down your opponent. This set can be played stand alone or can be combined with other sets of Nightfall for enhanced play.
This set features new starting minions, a new wound effect, and the all new Link mechanic allowing for faster play.
Add a Review for "Nightfall: Eastern Skies"