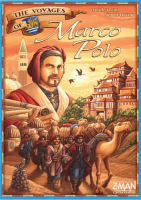 The Voyages of Marco Polo
At the end of the 13th century, Marco Polo sets off with his father and uncle on a long voyage to the East. They will journey far and wide, master the mercantile trade, and gain favor with the great Kublai Kahn. Will you follow in the footsteps of the great Marco Polo or carve your own destiny in the annals of history?
Establish trading posts as you travel across Asia. Seek valuable goods at the bazaar. Fulfill important contracts and accomplish your secret goals. Fortune favors the bold in The Voyages of Marco Polo!
Add a Review for "The Voyages of Marco Polo"