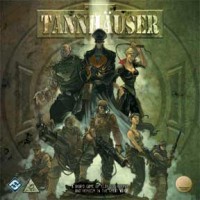 Tannhäuser

Tannhäuser is set in an alternate-history version of 1949 where the Great War never ended, Tannhäuser features small squads of troops of the "Army of the Union" in their attempts to track down and stop the Reich's "Obscura Korps", who use a mixture of technology and occult magic to further the cause of the Fatherland. Tannhäuser blends together alternate history, science fiction, and magic to create a wholly original game world.
Tannhäuser is the base game in the Tannhäuser series. It features the men and women of the 42nd Marine Special Forces, led by John Mac Neal, and the mysterious and deadly Obscura Korps of the Reich locked in a struggle to recover the Obscura Cardinal Stones.
The box of Tannhäuser includes everything required for two to ten players to begin playing in the u-chronic Tannhäuser universe.
Add a Review for "Tannhäuser"