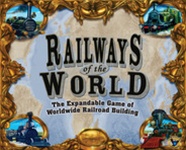 Railways of the World
Railways of the World is the new base game for the system and will include the engine placards, railroad tiles, train tokens, money, bonds, and other items that will be needed in almost all "Railways of _____" games. The game board depicting the eastern half of the United States, is included in the base game. The map of Mexico will be mounted and is still included in this base game as an introductory map for new/beginner players.
Add a Review for "Railways of the World"