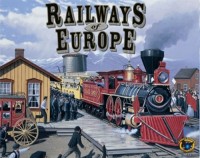 Railways of Europe
It is mid 19th century Europe.
The railroads that first appeared in England are now appearing on the European mainland. Wealth and prestige await the player who can tap into the resources and demands of the continent. Do you build through the mountains of Southern Europe, or across the expanse of Western Russia? If you are fortunate enough, maybe you can sign a charter agreement with a strategically located town or even a capital. A continent awaits for the Railways of Europe.
Railways of Europe is an expansion map for Eagle Game's very popular railroad game. You will need the pieces from the basic game (track and city tiles, shares, money, empty city markers, trains and first player marker) to play Railways of Europe.
Add a Review for "Railways of Europe"