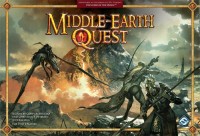 Middle Earth Quest

It is a time of growing darkness and despair. Sauron the Great, the Dark Lord of Mordor, has returned to his ancient fastness of Barad-dûr. From there, his evil and corruption has spread across the lands once more. Alas, in the West, there is little strength left. The Elves have all but abandoned Middle-earth, and the blood of Númenór has run thin; that which remains now dwells in Minas Tirith, or with the lonely rangers that haunt the ruins and wild country of Arnor.
Yet, there is still hope. Gandalf the Grey has learned that the One Ring, the master–ring which Sauron desires and fears above all, is with the hobbit Frodo in the Shire. And there are heroes! Heroes to aid Gandalf in his hunt for the creature Gollum, and in his quest for the lost knowledge of Isildur's Bane. Heroes, whose strong arms guard the Shire from the enemy. Heroes, who venture into the forests of Ithilien, or even into the Land of Shadow itself, there to disrupt the schemes of Sauron, wherever they may be found.
Middle-earth Quest is set in the seventeen-year period between Bilbo's birthday party and the Ring's departure from the Shire, as described in J.R.R. Tolkien's novel The Lord of the Rings.™
One player takes the role of Sauron, who is attempting to dominate Middle-earth with his nefarious plots and evil minions. Up to three other players take the roles of heroes who must hold the darkness at bay until Gandalf's plans have matured. To do so, the heroes must embark on dangerous quests and consult with the famous characters of Middle-earth to gain favor and knowledge.
Will you play as Sauron and claim Middle-earth as your own? Or will you play as a hero and stand against the Dark Lord?
The fate of Middle-earth rests in your hands!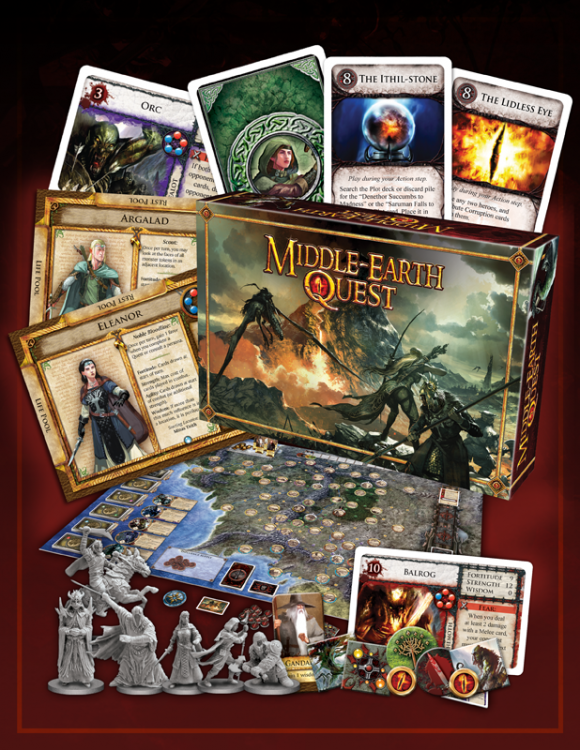 Add a Review for "Middle Earth Quest"