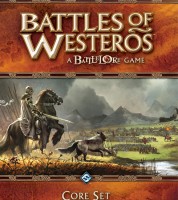 Battles of Westeros
Unfurl the banners of the Great Houses of Westeros! To secure power in the Seven Kingdoms and to ensure the survival of their lines, the Houses of Westeros each follow very different paths. Some forge strategic alliances, some create complex political intrigues, and still others use deceit and betrayal. But there is no more direct or lasting path to power than taking to the field of battle.
In Battles of Westeros, two players recreate the military conflicts set in George R.R. Martin's A Song of Ice and Fire series, taking part in battles directly from the books... or designing their own. In this epic board game of battlefield tactics, players control either House Stark, the wards of Winterfell who have called their hearty allies to defend their honor and lands, or House Lannister, an aggressive force funded by Casterly Rock's endless supply of gold.
Add a Review for "Battles of Westeros"