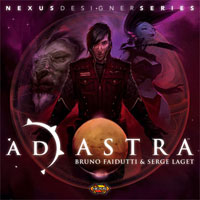 Ad Astra
In the distant future, Homo Sapiens have slowly colonized its solar system and over the course of centuries has evolved and adapted, diverging into five new races, suited to life in different planetary environments.
Will you lead your people out of darkness and into the bright future of a new galactic empire?
In Ad Astra ("To the Stars"), you will guide one of the five factions of future humanity in its exploration of the galaxy. Wield powerful technology; reshape newly discovered planets to give a new home to man; and explore the mysterious relics of a long-lost alien civilization...
Who will be able to create the greatest star-spanning civilization?
Ad Astra is a game designed by Bruno Faidutti and Serge Laget, the team behind Mystery of the Abbey (© 2003 Days of Wonder). Three to five players will take on the roles of one of five human subspecies and explore the galaxy in search of new planets to mine for resources or settle on and terraform into habitable worlds. Also hidden in the furthest reaches of unexplored space are the relics of dead alien civilizations - technology which provides massive powers - the reward for those brave humans who dare the depths of the galaxy.
Add a Review for "Ad Astra"